Granite Cleaner
StoneKleen is a remarkable cleaning chemical that makes use of a breakthrough in formulation of all-natural ingredients as one of the best eco friendly granite cleaner chemicals on the market. Using tiny nano-energy particles within an aqueous cleaning solution to penetrate through the soiling, algae or cement smears, StoneKleen leaves a very clean surface on granite that tends to resist dirt gripping to it afterwards.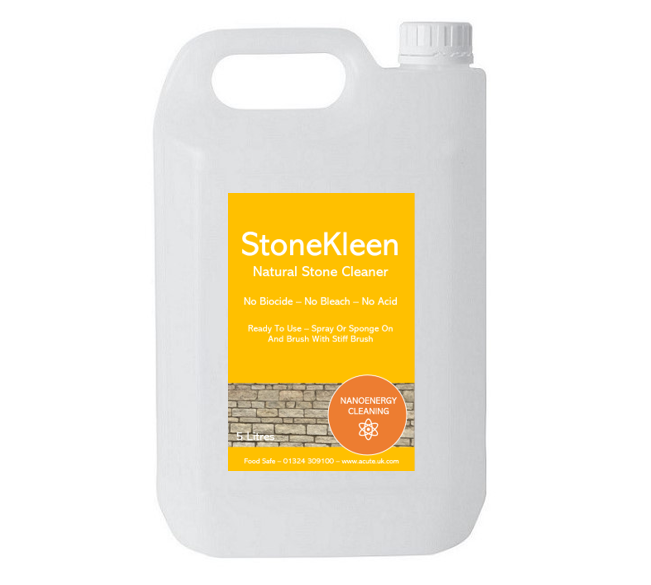 For Inside And Outside
Useful both indoors as a granite worktop cleaner and for flooring and outdoors as the ideal granite patio cleaner for garden stone work, driveways and other surfaces and walls that may become weathered and grimy from pollution, algae and so on.

Many exterior cleaning chemicals rely on biocides – basically disinfectants – to kill algae whereas the whole function and concept of StoneKleen eco friendly granite cleaner chemical is different as it works to loosen and dislodge the soiling using the nano-energy packages to break surface tension rather than killing anything.
Its also an odourless chemical and as it is pH neutral and contains no acids, no bleach, and no biocides it can be seen that this is a truly remarkable product safe for you, for pets, for use near plants and lawns, and for use on granite surfaces to keep them in pristine condition.
How To Apply:
If you are using StoneKleen outside as a granite patio cleaner, we suggest the following procedure for application:
Brush any leaves, loose dirt, and excess dust away – no point wasting chemical until it can get into contact with the tough stuff to remove that is sticking to the substrate. If it is a hot day it's a good idea to wet the surface a little with a garden hose.
Apply generously by puddling the cleaner, it is diluted as ready-to-use and you can see a video here to show you. StoneKleen can also be sprayed, brushed, or rolled on, if sprayed then please apply several coats.
Agitate the cleaner with a broom or stiff brush on the surface and aid the penetration with a good scrub, you should start to see the soiling in a light foam – algae will make it green for example.
Wait for about 15 to 30 minutes and then rinse off the cleaner either with a garden hose, buckets of water or a pressure washer if you have one.
Using this eco friendly granite cleaner chemical inside is similar process to above on a smaller scale, the rinsing is not an absolute must but keep in mind that if significant amounts of dirt are liberated then you don't want the residue to dry back in again!
Please do contact us to discuss your specific challenges or download the StoneKleen safety data sheet here.
Acute Build Clean | 74 Bo'ness Road | Grangemouth | FK3 9BL
London Office | 47 Gee Street | Clerkenwell | London | EC1V 3RS